07/12/18 18:00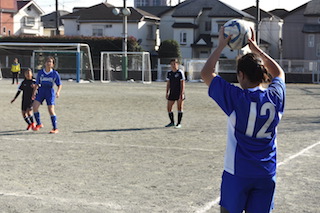 Photo credit: Victor Eby
CAJ's two middle school girls' soccer teams each played Seisen and ISSH on Saturday at CAJ. The Knights' A Team beat Seisen 4-1 and lost to ISSH 4-3, while the B Team lost to Seisen 1-0 and lost to ISSH 5-0.
Read More…
30/11/18 18:00
The middle school girls' soccer team began their seasons playing a total of four games in Yokohama at the YCAC complex against BST and St. Maur on Saturday. A Team tied St. Maur 2-2 and lost 2-1 to BST. B Team lost 2-0 to St. Maur and 5-0 to BST.

Coach Kathryn Lewis said the following about the A Team games:

"Our game against St. Maur was an exciting one! Our defense held strong to keep us in the game, giving us a lot of opportunities to try and score at the other end. Against BST, we played with a lot of spirit and showed a lot of determination in a well-fought game. An unlucky goal by BST at the very end proved to be the difference. What warriors to keep playing in the midst of difficulties!"

CAJ's three goals for the day were scored by Juna, Anne and Kiera.

Lewis also commented on the B Team game against St. Maur:

"The B Team rookies played with enthusiasm, getting many chances to score and doing their best to keep the ball away from the goal. It was a very good start!

Assistant coach Haruka Akashi added some thoughts about the B Team game versus BST:

"This was a tough one for our girls. They had a few skilled players that made it harder on us. It was nice to already see an improvement from our first game on how we were getting more scoring opportunities and being more aggressive. The girls need to communicate better on the field so that they aren't bunching up."

The next game for both teams will against Seisen and ISSH on Saturday at CAJ.


MS Girls' Soccer Information