Demographic Shift
Overview
[
edit
]
CAJ has been experiencing a seemingly drastic demographic shift over the past decade or longer.
When CAJ was started in 1950 as a school for the children of evangelical missionaries working in Japan, the vision was most likely for a school for North American students and those European missionary students who wanted to study in English.

While there may have been some consideration of enrolling children of Japanese Christian workers, it is probable that the strong U.S. dollar and the state of the Japanese economy made CAJ's current family demographic make-up difficult to predict.
In addition, the existence of a "Christian" nation in Asia like Korea would also have been difficult to predict.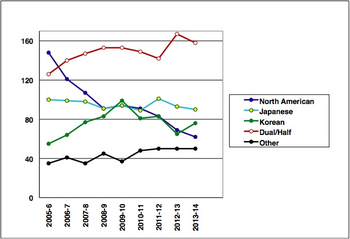 Several major shifts have occurred in Japan and at CAJ:

Japan has become a very expensive country with the world's second-strongest economy.

The costs in Japan have had an impact on raising support. "Traditional" missions (those with North American or European roots, including CAJ's founding missions) have continued to report a decline in new missionaries for over a decade. Recent reports are that some "traditional" missions have several missionary couples who are trying to raise support to come to Japan, but raising the amount required is very difficult.
The number of tent-maker (self supporting) missionaries has increased significantly, as those who feel called to spread the gospel in Japan find it less daunting to come to Japan to work and to share the gospel through their workplace, or by being heavily involved in a church concurrently.

CAJ has changed from having a large hostel/boarding population to no hostels at all.
The influx of Korean missionary families into Japan has increased.

There is a desire with some Korean missionaries to pursue English-language instruction to prepare children for post-secondary education in U.S. colleges and universities. Some Korean mission's and sending churches prefer that the children of missionaries attend Japanese schools as part of their ministry.
Korean missionary children are often tri-lingual, having spent some years in Japanese elementary education before applying to CAJ.
Parents often show a preference for communication in Japanese over English, as the Korean and Japanese languages share more common grammatical structures than English with either language.

The decline in missionary student applications has opened the way for more non-missionary students to gain .

This shift has increased the tuition income at CAJ.
CAJ's Response
[
edit
]
CAJ has been working to adapt to the demographic shift:

The Board of Directors established a demographics committee in the 2006-07 school year to study the effect of CAJ's changing demographic make-up.
CAJ has begun to translate more and more publications and documents into Japanese and Korean to assist in parent communication.
Our identity as a school for missionary kids has been, and will continue to be, closely examined.
CAJ's admissions have reflected a desire for second and third-language learners to enter CAJ at a younger age, so that reading and writing do not lag behind oral communication.
CAJ's business manager has kept careful data on passport countries of students enrolled at CAJ and their parents.
School publications have dealt with understanding and adapting to the shift in demographics.
have begun to focus on meeting diverse needs in the classroom and cross-cultural understanding.