School Improvement Process
Overview | Process | Reports | Plan | Join in

Overview
[
edit
]
Our School improvement process produces and maintains our school improvement plan: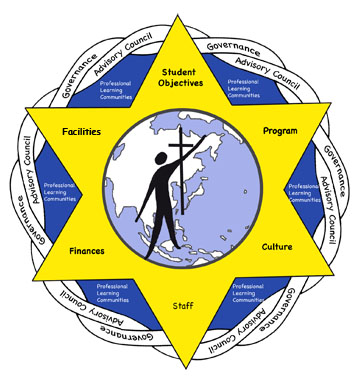 CAJ uses a school improvement process which integrates:
1) the board's vision via a fully integrated "ends"-based governing system (policy governance/Carver model).
2) continuous strategic thinking applied to day-to-day operations rather than an occasional strategic planning cycle.
3) a sustainable, focused, usable and well maintained school improvement plan.
4) accreditation: A WASC-approved process that allows CAJ to engage in ongoing self-study and produce reports that serve its unique needs.
Past Timeline:
2011-12 The School Improvement Process is used to generate a School Improvement Plan. Accreditation visit succesfully uses materials from school improvement process as the heart of its WASC Visiting Team report: March, 2012.
2012-13 Focus groups met occasionally for specific tasks such as reviewing the school profile, discussing the master resource plan, and reviewing the annual ends report (part of the annual report).
2016-2017 Self Study
Current Self Study Year Timeline:
November 2016-2017 Self study staff kick off
January 2017 Focus groups meet for the first time this year.
February 2017 Parent survey
March 2017 Focus Groups meet to discus survey data.
Centered on Student Learning
[
edit
]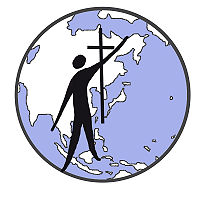 CAJ desires to focus all its energy on mission achievement, and our mission is student learning.
Mission: "Equipping students to serve Japan and the world for Christ."
Professional Learning Communities, PLCs
[
edit
]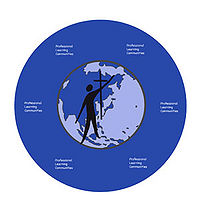 All CAJ staff are members of Professional Learning Communities (PLCs). PLCs are collaborative groups focused on specific, job description driven daily operations. Our academic departments are PLCs, as are groups such as the facilities team, Support Team, etc. Student council, Parent-principal meetings.
PLCs also collect and use school improvement data, and pass that data on to the focus groups. At the same time, they are constantly aware of the school improvement objectives and seek to make them a reality.




Focus Groups
[
edit
]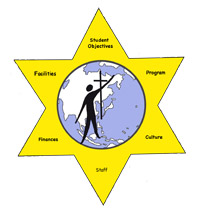 All CAJ staff serve as focus group members. There are at least six focus groups that will be meeting throughout this year. Each represents a board vision statement (end).
Focus groups collate and track data, ask questions, and use the collective experience of its members to write reports about the state of the school in their assigned area and to make recommendations for school improvement objectives.
Focus groups use accreditation criteria as a way to audit their efforts and align CAJ with best practices.
Advisory Council
[
edit
]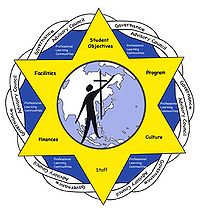 Management and advisory groups are tasked with binding the process together and providing oversight and guidance.
The advisory council consists of the focus group leaders, the Leadership Team, and others who have an interest in school improvement.
An ongoing School Improvement Plan, based in part on focus group input, is revised and approved by the Leadership Team. The head of school is responsible to make sure the plan aligns with the board's vision and all board policies.
Governance
[
edit
]
Board limitation B 2.4.3 states that the head of school shall not fail to: "Maintain a board-approved school improvement process that is ends-directed and connected to the accreditation process. The process should be ongoing, sustainable, and include a system for using past data and current understanding to anticipate possible future needs and trends." The board requires regular reports on the process (B2.4.3.1) and has full access to focus group, school improvement, and WASC reports.
The Leadership Team approves the school improvement plan and ensures that it aligns with board policy and vision. The Leadership Team is ultimately responsible for the plan's implementation and for maintaining a viable, energetic and useful school improvement process.
WASC Accreditation
[
edit
]
Care was taken while developing this process to align it with our accreditation requirements - including several consultations with WASC staff. This is to avoid ramping up school improvement efforts in anticipation of an accreditation visit, disrupting progress towards achieving our school improvement objectives, or duplicating efforts thus creating busy-work.